WOW was the first thing I thought when I saw the Valentino Fall couture collection by Pier Paolo Piccioli and Maria Grazia Chiuri, its so different to anything they have done I wouldn't have even guessed it was Valentino, but I love it.
The darkness of the collection is really beautiful, some pieces really remind me of Alexander McQueen's Fall 2008 collection, and other's of Fendi, but still its very unique.
"Not one piece of red in sight. It's a new day at Valentino. Hell, there was barely any long. Just wisps of fabric with bows and frills." said
Elle
's Joe Zee
The black, lacy, ruffled dresses that, layered over nude (above), were simply beautiful .
The workmanship that went into each ripple and shadowy layer of tulle was inimitably precious, yet somehow the designers successfully dodged the hazard of veering into overdone froufrou.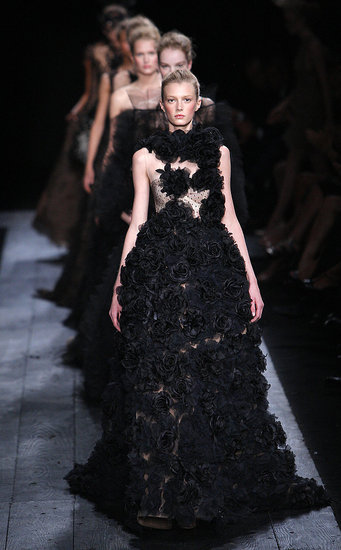 What do you think about the new direction Valentino seems to be taking ?